WP Compress: Site Supercharger Through Images and Scripts
WP Compress is a software that can help you supercharge your site by adapting images and scripts for incoming visitors.
Features and Benefits of WP Compress
👉  Optimizing Images and Scripts in Real-time – This is the main feature of WP Compress. This way, every content in your website will be optimized for the incoming visitors making it more likely for them to stay in your page.
👉  Multi-layer CDN – This feature will helo load media from the closest server to the incoming visitor to help you increase site performance and improve user experience.
👉  Credits – You can use your credits to traditionally compress media library images , generate next-generation WebP images, and even bulk resize images that are too large for the web.
👉  Local Optimization – This feature will help you save storage space with your host and shrink the page sizes for faster load times and reduced bandwidth.
👉  Easy Switch Optimization – You can switch between local and real-time optimization any time and even optimize images upon upload by using this feature.
👉  Hands-free – This software is built to be hands-free after set up which means that you can easily link your website, and you will be ready to go with real-time optimization in just one minute.
👉  Easy Reporting – This will be made easier through the software's ability to automatically send detailed reports to your clients' month via email.
👉  Features for Agencies – With WP Compress, you can easily offer full control of assigning credits, creating custom brand reports, and managing your linked websites.
👉  Quotas – You can also assign monthly quotas to clients based on your website care plans for how many images will be compressed, and add one-time credits for existing images.
👉  Remote Managing – Agencies will also be able to remotely manage all websites from the centralized portal to configure settings, optimize images, and view reports.
👉  Site owners who are looking for a platform that will boost their site's performance.
👉  Agencies who need a software that can help with their day-to-day chores in their site and optimize their website's content.
Things to Note About P Compress
👉  The support team does not respond to queries that well.
👉  Using its features can sometimes cause slower uploading time, possible HTTP errors while uploading, and other timeouts.
WP Compress is Currently on Lifetime Deal at Appsumo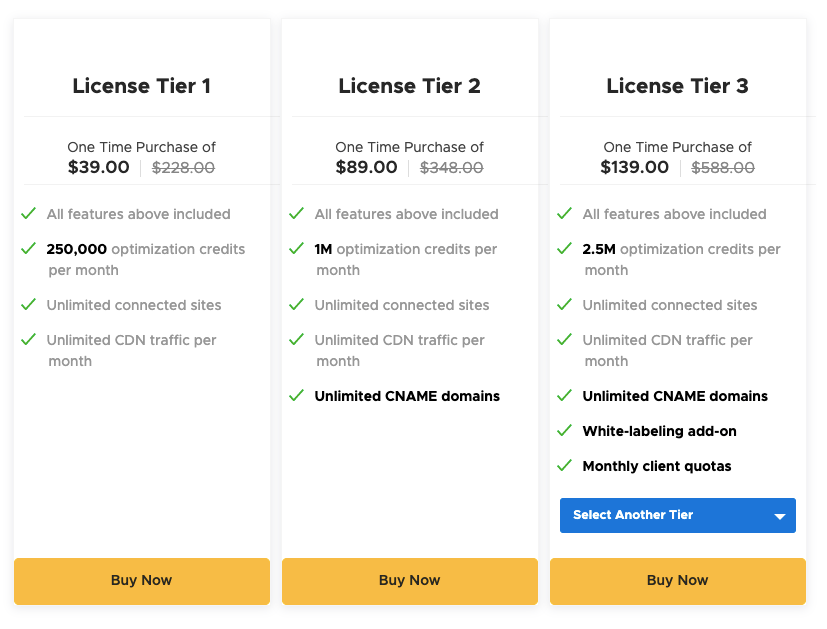 Get fresh updates in your inbox 

👇