Vidlogs: AI Powered Team Meetings
Vidlogs is an AI powered tool that can help you and your team conduct meetings flawlessly. Everything will be recorded and transcribed so you can conduct your meetings without having to worry about a single thing.
Features and Benefits of Vidlogs
👉  Workspace – You can organize all your recordings and meetings with workspaces based on the topic of your meetings. Also, you can invite your team members for collaboration in a customizable channel that can be made recognizable depending on how you want them to be recognized.
👉  Video Recording – This app also allows you and your team members to respond via video recordings which you can watch anytime and anywhere. You can also respond to those videos anytime.
👉  Live Meetings – Hosting live meetings is one of the highlights of this software. You can go live in a browser based platform and conduct your meetings there.
👉  Transcriptions – The app is assisted by an AI which can help with keeping tabs on the topics that were discussed during the whole meeting through transcriptions that can be searched for in the app.
👉  Meeting Recordings – You can also have the team meetings recorded for you to rewatch later on and make sure that everything has been discussed and for you to take note of suggestions given by your team more effectively.
👉  Screen Recording – Aside from recording your meetings, you can also do screen recordings and sharing through the Vidlogs app. This way, you won't have to download other apps to do the job for you.
👉  Development and QA teams who need a safe avenue for them to conduct meetings and keep tabs on those meetings.
👉  Project and change management teams who need a tool that will help them keep tabs on their meetings and reports.
👉  Design and UX teams who need help with recording their meetings and making sure that everything is transcribed and taken note of.
Things to Note About Vidlogs
👉  There is no possibility to turn off the transcriptions.
👉  The transcripts are not available in other languages.
👉  It does not allow the sending of PDF, DOCX, and ZIP files.
Vidlogs is currently on a lifetime deal at Appsumo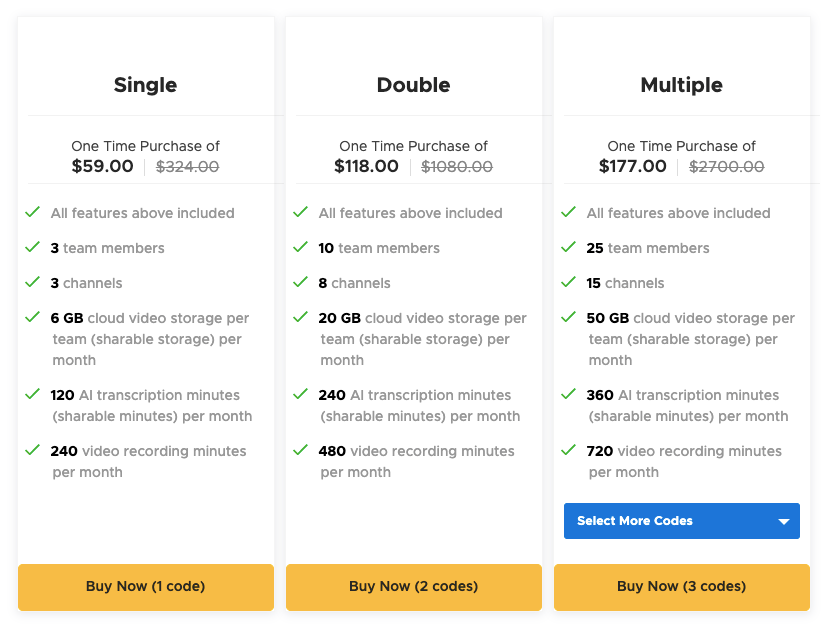 Get fresh updates in your inbox 

👇