Quuu: Unlock Thousands of Amazing, Hand-Curated Content and Share It To Others!
Quuu is a content management platform where you can read, watch, listen, engage, save, and share content with other people. Quuu allows you to choose categories of content you'd like to see and Quu will provide you curated content that's closely related to the categories you picked. The content that you will be presented to you are handpicked by an in-house team from Quuu. They're thoroughly reviewed, and are guaranteed to be relatable, relevant and enjoyable.
Content creators and curators will be able to make the most of this platform as they scout for content to share for their audiences in their social media accounts, blog, website or whatever channel they may be using. Or if you want to pick up an idea for your next content, then Quuu is a great platform for that. If you just want to have a good time with your friends by sharing amazing content, Quuu is a perfect place for you!
Quuu's lifetime deal on Appsumo has been recently released. For individuals or small businesses who wants to use this platform, the "Single" deal would be just right as it enables you to get the advanced features of Quuu, automate up to 10 social media profiles and have up to 3 pods (will be discussed later).
For agencies, large-scale businesses, and those who want to take it the next level, "getting the "Double' deal is very much worth it as you get 10 times more social media profiles for just double of the price of the "Single" deal, allowing you to automate up to 100 profiles. This comes with unlimited pods, plus the ability to add team members, incorporate your branding, and set up teams. If you're looking to take things seriously, this would be the best deal for you.
Features and Benefits of Quuu
Here are the features and benefits of Quuu that makes it stand out:
👉  500+ Interest Categories – Quuu boasts a large pool of interest categories to allow you to personalize the content that you'll see in your board. You'll receive relevant suggested content that you can then share on Twitter, instagram, Facebook, or LinkedIn.
👉  Category Clusters – With Content Clusters, you'll be able to pick more categories that you're interested in to personalize your content experience. With this feature, you'll also be able to customize which specific types of content you want to see for each different category. Pretty neat.
👉  Hand-curated Content – Content presented to you by Quuu are not picked by an AI, but instead, they're hand-picked by an in-house group from Quuu to ensure that you get the best engaging content for the categories you chose.
👉  The Community – Or as they like to call it "The Quuumunity"! Find a community of great and amazing content creators and consumers who share tons of content from different categories! You'll be able to support and follow your favorite content creators by subscribing, reading, and engaging with their content on the Discover App
👉  Quuu Chrome Extension – It sucks to miss out jaw-dropping content that you find interesting, and it'll be pretty cool if you can save them for later. If you're one of the many people who prefers to save and read an article later because you don't have time for now, Quuu's chrome extension allows you to do just that. Save articles, videos, and more from anywhere on the internet!
👉  Content Organization – Organize all your saved content into custom folders so you'll have a personalized collection of all the content that you actually like and enjoy.
👉  And last but not least, Quuu Discover – Having a Quuu Discover profile will allow you to access more content to read and share alongside the hand-curated content suggestions by the Quuu team. It will also allow you to share your own content within the community. For content creators, this will allow you to have one link that will become the home of all your content which you can share to your followers or audience. Having a Discover Profile will help you gain new audience by letting you have an email opt-in for your newsletter.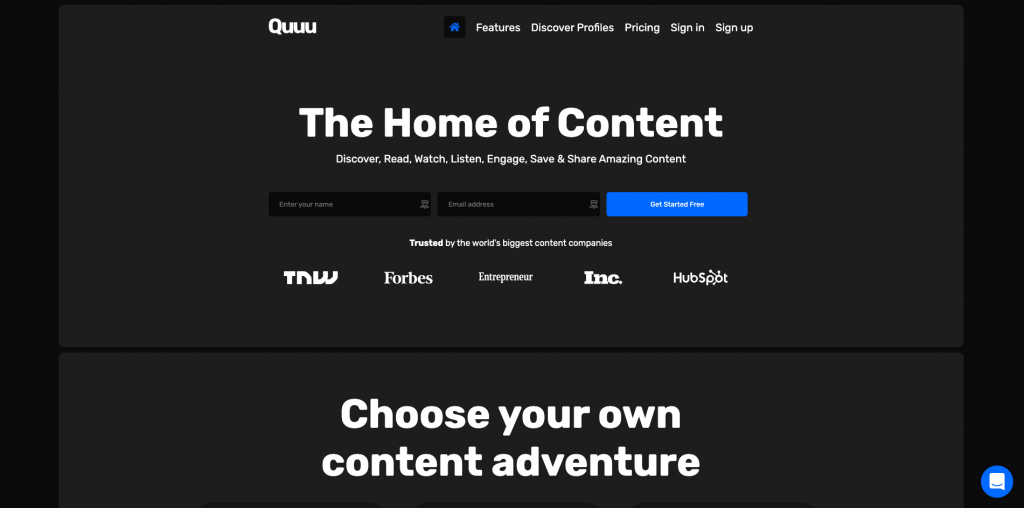 ​
Who Is It For? 
👉  Content Marketers who wants to save time looking for high-quality content that they can use or share with their clients or customers.
👉  Content Creators who wants to look for ideas to make a trending content to share for their followers or readers.
👉  Social media managers who are looking for a topic discovery tool and are looking for great content that they can share in their social media accounts.
Things to note about the software
👉  Content in some niches are unavailable, meaning there are no content curated in a few niches.
👉  Sometimes the content presented are not relevant to your niche.
👉  There are feedbacks from some people that the curated content had been "paid to promote".
Ratings from…
👉  Appsumo: 3.8 stars, 145 reviews
👉  G2: 3.8 stars, 7 reviews
👉  Producthunt: 5 stars, 37 reviews
Alternatives of the software 
👉  Content Studio – A content marketing and social media management platform
👉  UpContent – A content discovery tool to create engaging content
👉  BuzzSumo – Content marketing tool to discover trending content in social media platforms
👉  Feedly – A content aggregator and RSS reader tool
👉  MavSocial – Social media management and advertisement platform for marketers
The Company 
👉  Year founded: 2015
👉  No. of employees: 2-10 employees
👉  The Founder: Matthew Spurr
Social Media Accounts
Facebook
​
Instagram
​
LinkedIn
Lifetime Deal on Appsumo
​