Pictory: Create Engaging Videos From Long-Form Content with Smart AI Solution
Pictory is making content creation, marketing, and repurposing easier with its AI technology.
Pictory is a powerful software tool that lets you create social videos from your long-form articles in minutes.
The AI determines the all the important highlights in your article, compiles them, and turns it into a bite-sized shareable video that you can immediately post in your blog, website or social media accounts.
One of the best thing is, you can slap your business's branding into your videos so people can see how strong your brand is!
You can also create transcriptions from any of your videos so you can repurpose them however you want.
You can turn your videos, podcasts, and webinars into articles or short clips that you can also post into any platform you'd like.
Stay fresh and engaging with your customers today with Pictory.
Pictory's lifetime deal on Appsumo has been welcomed warmly by Sumolings, giving it a rating of 5 stars with 69 reviews!
If you're a content marketing team, agency, or a business who wants to ramp up when it comes to publishing content on their website or social media accounts, we'd recommend to go for a Tier 2 deal. It'll give you more than enough credits and limits for creating videos and transcripts with lots of projects per month. You'll also have access to Hootsuite's integration which will make planning and publishing content much easier.
But if you or your team aren't pumping content in massive volumes, then the Tier 1 would be good enough. With all of its features and solutions, Pictory's lifetime deal is something you wouldn't want to miss.
Features and Benefits of the Software 
👉  Turn your lengthy videos into short clips with Pictory's AI technology. Upload your videos, and let the AI do its magic. The AI will transcribe the video you upload and then extract highlights and key information within your video in minutes and turn them into shorter clips that people will want to watch they're just scrolling on their social media. You can manually adjust the selections made by the AI to include or exclude portions that you want or don't want to keep in your new video.
👉  Whitelabel – You can customize the generated videos to include your logo, color scheme, custom fonts, intros, outros, captions, and more. Show your customers and visitors your brand!
👉  Accessibility – The AI has the capability to automatically add captions, subtitles to your videos to make it's accessible to the majority and make your video more SEO-friendly. You'll also have the option to burn the captions into the video or download them into your computer as text, SRT, or VTT files.
👉  Multi-language – Pictory supports up to 20 different languages to help you connect and engage with your readers and viewers!
👉  Turn your long-form content or articles into videos with AI! When you upload your blog or article, the AI will automatically determine the most important parts, and then create the script for the video. The AI will automatically add relevant visuals, clips, photos, and audio to make your video much more interesting. It will also add a voiceover that matches your theme or topic.
👉  Just like what was mentioned before, you can also manually select parts from your article that you want to include or exclude in the generated video. You can also manually select the visuals, audio, and voiceover if you want to change them. You also have the option to upload your own.
👉  Media Library – Pictory has a vast media library that you can pull assets from. Choose from over 6 million licensed stock images and video clips from Shutterstock!
👉  Voice Selection – There's a selection of natural voice to choose from, if you want to change the voice the AI picked. You also have the option to record the voiceover yourself and upload it and edit it into your video.
👉  Bulk Download – You can bulk download your short videos in a CSV file.
👉  Hootsuite Integration – Push your short videos or content into your dashboard to put it into your content calendar.
Who Is It For? 
👉  Mainly for content marketers who want to repurpose their content from videos to text, and vice-versa, to increase content for their clients and to increase customer engagement through meaningful content.
👉  Businesses working with small teams who want to market their products, services, or content through social media videos using their own branding.
👉  Entrepreneurs, sales teams, and consultants who want to gain more customers through content marketing and repurposing.
Things to note about Pictory
👉  Lack of language options for their videos and transcription.
👉  Sometimes, the AI does not pick up the best lines.
👉  There is no usage meter that indicates how much credits you have remaining.
Ratings from…
👉  Appsumo – 5 stars, 69 reviews
👉  G2 – 5 stars, 2 reviews
👉  Producthunt – 5 stars, 29 reviews
Reviews:
"If you're struggling to find the time to create engaging videos and you don't have the resources to hire a professional video production company, Pictory is the answer. It uses AI to convert your long-form content into engaging, digestible videos that you can share on across social media platforms." by Lilac_Marketing
"Decreases time needed to create new content, It makes it very easy to create videos from blog articles, you can literally create a very good video in under 10 mins to share on your social media to promote your blog. It's would be more engaging than simply sharing your blog link. You will need less number of tools if you are using Pictory instead of other tools." by Inderpal.fr
"This tool is definitely a gamechanger for Digital Marketing / Social Media Agencies or even small business owners looking to ramp up their online content!" by rdkimlovino
Alternatives of the software 
👉  Descript – Lets you record, transcribe, and edit your videos, podcasts, and more.
👉  Zubtitle – Allows you to easily add captions to your videos.
👉  Vidnami – Lets you create presentable videos in minutes.
👉  Synthesia – Create professional AI videos from text
The Company 
Year founded: 2019
No. of employees: 2-10 employees
The Founder: Abid Ali
Social Media Accounts
Pictory.ai has two social media accounts on two major platforms: Facebook and LinkedIn.
Facebook
​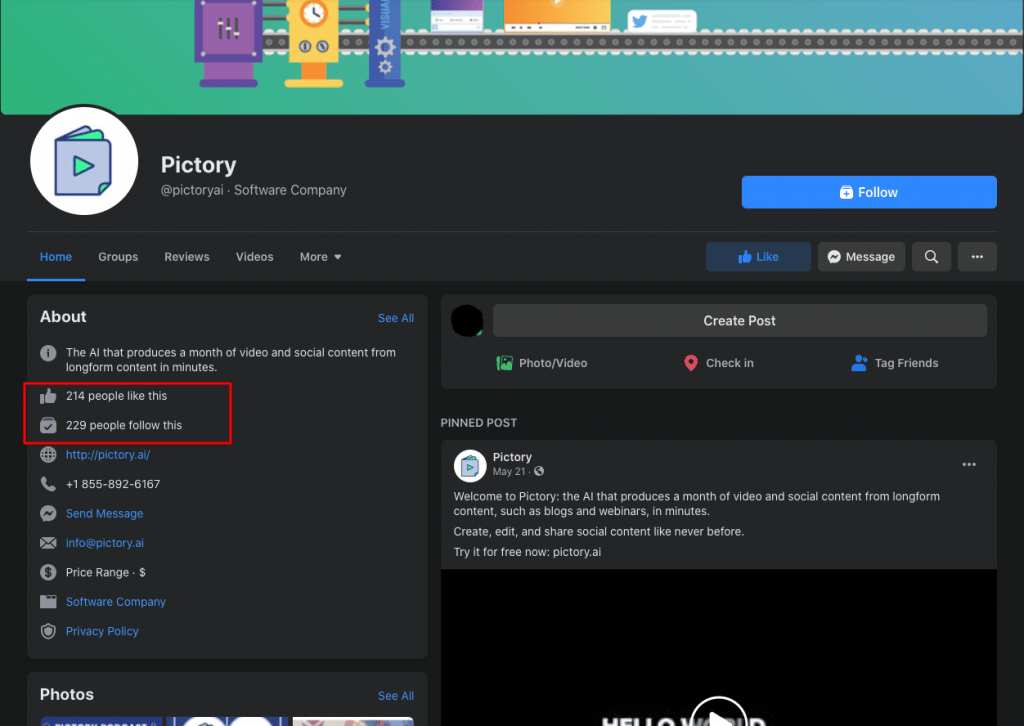 LinkedIn
​
Lifetime Deal on Appsumo
​
Get fresh updates in your inbox 

👇