MarketMuse: An In-depth Review of its Features, Competition, and Deals
There's a lot to cover for MarketMuse (MM). I'll try to make it concise & to the point!
| | | |
| --- | --- | --- |
| - | MarketMuse | Frase |
| SEO content that ranks | | |
| Plug and Play | Win | Lose |
| Easy Content Planning | Lose | Win |
| Competitor Analysis | Win | Lose |
| Team Members | 1 | 3 |
| AI Content | Own NLP Model | GPT-3 (Roadmap) |
| Topic Questions | Good | Good |
| AI Assistant (Find answers) | None | Yes |
| Export to WordPress | None | Yes |
| Search Console Data | None | Yes |
| Affordability | Lose | Win |
| Better Deal Terms | Lose | Win |
| Ken's Pick | | |
You kidding me?! Frase's SEO content optimization is below average??!!
Yes at the present moment, against the competition. 😞
Go to the note "MM VS Frase" to learn more.
Website Auditor, SurferSEO, & even GuinRank all seems to perform better than when it comes to SEO content optimization.
I'm sure they will improve over time.
Frase has more features, but MM still win?!?!
Why? » Coz MM will save me time & make me money.
Time? » Frase gives you all the research data BUT doesn't tell you what to do with it. Their topic suggestions are also weak.
MM gives you credible data (less checking needed) & tells you exactly what to write in order to rank. If you use Content Briefs & First Drafts, it'll save even more time.
More Money? » The more & higher your article rank, the more money you'll make! (if you know what you're doing).
What's the point of writing 1,000 posts if it doesn't rank or doesn't get read, right?
When Should You Go For MM?
👉  You want to have the highest chance to rank on Google
👉  You want to write comprehensive content & position yourself as an expert
👉  Save time — When a tool is good, less fix & checks is needed. Save even more time with content briefs & first drafts.
👉  One of the best content optimization tool — Hard to get another content optimization tool that is as well known as MM to launch on Appsumo.
When Should You Go For Frase?
👉  You are OK with some level of content optimization — No need pro & top tier ones.
👉  You are OK to wait for roadmap — They will grow and mature. But it takes lots of time & money to build an internal NLP model.
👉  You're Not in a highly competitive niche — So it's easier to rank.
👉  You want to do research/ planning easier – Pulls a lot of good data into one place for you to do content planning.
👉  Cost effective — two codes for unlimited.
👉  Only 1 user no matter how many you stack — You can export the data for your writer or use Content Briefs (CB). With CBs, your writer will get a link to write directly on the content optimizer.
👉  Queries are recurring, Credits are one off.
👉  Additional credits at $25 each (usual: $100)
👉  Content Brief uses 1 credit
👉  First draft uses 1 credit
👉  Additional team member at $25/m
👉  Unlimited domains
👉  Using the "research", "compete", & "optimize" feature used to take up 3 queries, now it only takes up 1 query. — In other words, one content will only take up 1-3 query.
I chose a common topic so both apps can have more data to work with.
👉  Keyword: SEO for beginners
The top 10 suggestions from any content editor are the most important keywords/ topics that you need in your content in order to rank.
I highlighted low-quality keywords:
| | | |
| --- | --- | --- |
| Top 10 Suggestions | MarketMuse | Frase |
| | SEO for beginners | Search engine optimization |
| | Search engine | Search engines |
| | seo tip | keyword |
| | search result | content |
| | technical seo | search engine rankings |
| | seo marketing | piece of content |
| | backlink | links |
| | meta description | Search |
| | seo strategy | engines |
| | seo audit | google search |
| | | |
I'm surprised Frase did not have the seed keyword "SEO for beginners" in there.
It's an absolute must if you want to rank for it.
"keyword" and "content" may sound reasonable, but they do not give the writer an idea what topic to write about.
Simply stuffing the word "keyword" will not work as well these days. (It doesn't help you stand out either)
A better suggestion would be "keyword research" or "content research"
In data science there's a concept known as n-grams; think of it as the number of words used to describe a topic.
Complicated topics typically require more words to describe a concept.
So you have topics made up of:
Unigrams (one word)
Bigrams (two words)
Trigrams (three words)
Four-grams (four words)
The topic model Frase created contains an unusually high number of unigrams.
Here's the breakdown:
| | | |
| --- | --- | --- |
| n-gram topics | MarketMuse | Frase |
| Unigram (1 word) | 8% | 56% |
| Bigram (2 words) | 74% | 33% |
| Trigram (3 words) | 14% | 11% |
| Four-gram (4 words) | 4% | 0% |
| | | |
Incorporating unigrams into a topic model isn't wrong per-se.
But there are two major issues with Frase's topic modeling:
👉  It doesn't offer sophisticated suggestions, as seen by the lack of higher-order n-grams in its topic model.
👉  Some of the single-word topic suggestions are irrelevant (see the above list).
This lack of data fidelity is a major concern (source).
Winner: MarketMuse
Which is Better For Content Planning?
MM doesn't help you with content research and planning.
Frase allows you to peek into top 20 websites. Grab their titles/ subtitles/ questions/ descriptions for your writing inspiration.
I find it incredibly helpful for content planning/ research.
It also has the handy "Stats" tab for you to grab citations easily
Note that you should not cite the top 20 results if you want to rank above them.
Winner: Frase
Important

: Technology Used to Derive Keywords/ Topics
Frase crawls the top 20 results and uses term frequency to extract keywords, sorts them, and derive keyword suggestions
MarketMuse crawls tens of thousands of pages related to the keyword and builds pre-processed models.
They then analyze millions of articles by understanding related topics until a topic model is being constructed.
Finally, the topic model is compared with the top 20 results to derive keyword suggestions
Winner: MarketMuse
Company Size & Tech Capabilities
Frase: 10 employees
2 involved in machine learning & development
MarketMuse: 33 employees
7 involved in data science/ machine learning/ development
SEO Traffic For Each Company
At the forefront of search traffic is keywords and content.
Let's see how each company fare for their own website.
Frase: 719/m
What Else is Frase Better At?
👉  Frase Answers
It crawls your website content, learn your content, and help you answer visitor queries via the chatbot.
100/ qns per month for LTD buyers.
MM doesn't do this.
👉  Google Search Console Integration
After integration, Frase pulls real search queries that people use to find your site into the app.
They then group it into clusters based on keywords.
And allow you to sort by impressions, position, clicks, & CTR to learn about your search traffic.
This can potentially be a treasure trove of content ideas.
👉  Questions
Frase may not pull in as many questions as MM.
But the UI/UX is much better as it not only tells you the question, but also the answers for your reference.
👉  Better Deal Limits
With 2 codes, you get unlimited research + 3 users
Whereas for MM you get 40 research + 1 user.
I bought Frase when it first came out. Love the UI/UX
And will keep it for content research/ planning (if needed) & other features like GSC integration to find content ideas.
I'll also keep it for "investment" as they grow and mature into a strong company.
I think they have a bright future.
What I'd use day to day for generating SEO content is MarketMuse.
I spent countless hours writing content. I need it to rank!
I've no time to write & pray.
It's also hard to find another SEO content optimization tool this mature to launch an LTD again.
MM: Understanding the 5 Applications
The 5 Applications are as follows:
👉  Optimize (you'll use this most often)
👉  Complete
👉  Question
👉  Connect
👉  Research
When MM first came out, I wrote about each in detail. I'll paste it right below to showcase how it works.
Now a summary:
MarketMuse's Optimize application opens up a content editor, gives you all the important topics and sub-topics, and offers recommendations in real-time as you write.
If need to, you can export the data and hand it off to your writers. This module works similarly to other content editors like SurferSEO and Frase.
The quality of the data and technology is different for each platform.
To start off, you can enter your seed keyword at the search bar on top and click run. If the content is already published, you can simply enter the URL to fetch.
It basically opens up a content editor where it gives you a list of keywords/ topics in order of relevance. (most important ones on top)
All 3 software have similar content editors.
Below are screenshots of SurferSEO and Frase content editors respectively.
But the technology that is used to derive the recommendations is different.
MarketMuse claims to analyze tens of thousands of pages and provide personalized recommendations unique to YOUR domain.
In comparison, Frase only analyzes the top 20 search results.
Because the recommendations are unique, A SaaS blog and an E-Com blog will get different results even if they are trying to rank for the same keyword.
This according to MM can help you create highly relevant content.
What I like about MM's content editor is that you can click on each topic, and it opens up a bunch of other sub-topics.
Here we see the example of "Keyword research"
Upon clicking on it, it shows me other sub-topics that I can cover if I want to.
So instead of the stuffing more of the keyword, "keyword research" I can now talk about other topics like adwords keyword research, SEO keyword research, Google trends, and more.
This feature where it allows you to narrow down on a keyword is not available in Frase or SurferSEO. Good to help make your content more comprehensive.
The "Compete" tab WITHIN the Optimize application is super handy too.
It gives you an overview of the "Compete" data without running the "Compete" application and thus saving you 1 query.
On the compete tab, it shows you the top 20 ranking articles, their score (calculated based on MM's technology) and it's word count.
Based on this, MM also tells you what is the word count and content score you should aim for.
In this example, MM recommended my blog to write at least 3,895 words, and shoot for a content score of 33.
Again, this is unique to your domain.
If Google were to run this test, maybe MM may recommend that they aim for something lesser since they're so authoritative already. (500 words and a content score of 10?)
While at this tab, you can also click into each website and MM will tell you how your content stands against the site you selected.
Here's an example when I click into WordStream's article:
If the compete tab is not enough, you can always head to the compete application and use a query to retrieve more data.
Summary:
MarketMuse's Compete gives you a heat map of the top 20 ranking articles. It helps you to make informed decision after analyzing the content score and topic being covered by each site.
Looks confusing at first, but this contains a wealth of useful info at one glance. If need to, you can click into each results to get more insights.
On the top of the screen you can see the top 20 search results numbered from 1-20, and the content score at the bottom of each URL.
On the left, the topics are listed in order of relevance.
Then on the right, it has a heatmap that shows whether a site covers a particular topic or not.
Whenever you hover your mouse to each square, it'll show you the website and the topic score on a tooltip (So you don't have to turn your website around to see the data clearly).
The competitive data is all here. Now it's up to your imagination really.
But here are some use case examples.
Here we see the topic "appsumo coupon code" that is almost all red for all 20 sites.
That means it's a topic that is not being covered.
But base on MM's technology, it's an important topic (top 5) to make your content more comprehensive.
Add it into your content!
Here we see 4 topics that are covered by most of the ranking sites.
As visible by the green, blue, and orange boxes.
The color of each box also signifies how comprehensive they cover each topic.
If all the sites are covering the topic "appsumo deal" and are ranking well, then we better do so too.
Wait!
Why are the first 4 boxes mainly red. YET they are ranking on the top 4 results?
If they are ranking for the top 4, shouldn't all the boxes be green?
Does it mean that MM is not accurate?
If you examine further, you'll realize that the top 4 results all belong to appsumo.com.
And the keyword in question here is "Appsumo deals"
Of course, they can rank #1-4 even though their content is not optimized for the keyword.
The brand signals and authority overpowers any content optimization.
If you're trying to rank for this keyword, there's no point mimicking the top 4 results.
Make sense?
What you need to examine closely is the 5th result – 99signals.com.
They have a good content score, and is ranking right after appsumo.com.
We need to reverse engineer their content and make our content even better!
Cover the topics that they cover, and make it even more comprehensive.
And cover the topics that they missed too.
If all things being equal, there's no reason you won't outrank them.
Another way to make your content more comprehensive is to answer common questions.
MM has a powerful question extractor to help you do that.
Summary:
MarketMuse's Questions gather all the questions that is related to the keyword so you can address them in your content and make it more comprehensive.
No more having to switch to another software to get questions.
But if you want to save on queries, you can always research on another keyword research tool such as AnswerThePublic or Brandoverflow.
According to MM, they scrap not only the Google results for questions, but also look into each piece of content and automatically convert relevant topics into questions.
And only selecting the ones that could be relevant to your domain.
So it's supposed to be super comprehensive.
For this keyword, "appsumo deals", there's not a lot of content written about it, so I would expect some questions to be irrelevant. But if we were to search for a topic that is widely written about (like injury attorney), we should expect the questions to be highly relevant.
What if you're planning to just research a particular topic, export it out for your writers? MM's Research application will be handy.
MarketMuse's Research shows you the important topics and sub-topics that is needed to rank an article and create comprehensive content. Select all the topics and sub-topics you need and generate a content brief to be exported.
After entering the keyword or topic, you'll see a screen like the above..
Again, with the most relevant topics in order.
Simply check on the boxes that you want to cover so you can export it later.
It also shows you the "Variants" which means the sub-topics or sub-keywords that you can write about.
Click on it to reveal them, and you can also check on the boxes of the sub-keywords and add them to be exported later.
Done with your research?
Simply hit export to download.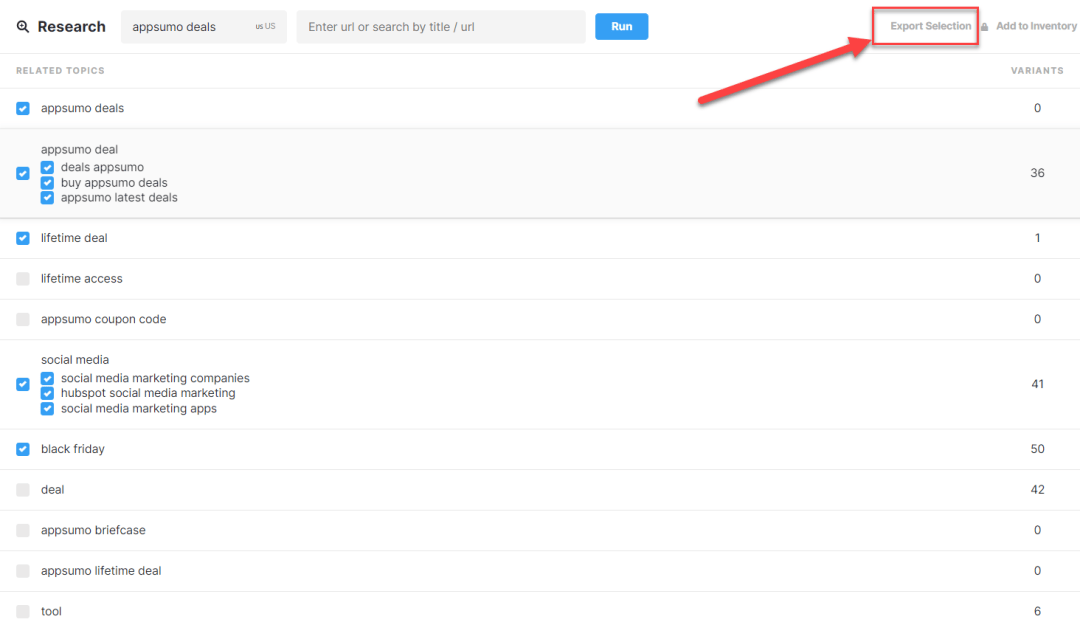 MarketMuse's Connect crawls your content and group them into clusters so you can see your content clusters and improve on them. The data here is unique to your domain. It also gives you external link suggestions for different topics.
In the screenshot above, I search for the keyword "Lifetime deals".
MM then group all my content related to Lifetime deals.
As you can see, I only have 4 articles in that cluster.
If I want to be a subject matter expert in "lifetime deals", 4 pieces of content is not going to cut it.
From the clusters, I know I'm making progress, but I would need to cover more LTD content.
Scroll through all the clusters to know where you're doing well and where you'll need to make improvements.
Sometimes you might even find some content that is being placed in the wrong cluster.
If MM's AI can't figure out which topic it belongs, Google bot might not be able too. It'll be better to optimize the content.
The "external" tab is super useful too.
It shows you who you should link to in order to show Google you are a figure of authority.
Tell me if this sound familiar.
You're trying to rank for digital marketing. You need some sources. So you Google "digital marketing", and link to one of the search results there.
Big mistake!
You're telling Google that particular web page is MORE authoritative that your content. And that's why you are using it for a source.
With the "external" tab, MM analyzes your content, and tells you which are the best sources to link to.
Saves time and doesn't dilute your authority.
Nice!
Understanding Queries and Credits
👉  You'll use this for day to day content optimization
👉  Powers the "5 Applications" that was mentioned in the previous note.
👉  It's equivalent to what other apps call credits. (e.g. Frase)
👉  1 Query = 1 document
👉  This is RECURRING.
👉  And is all you need to write content that ranks!
👉  For people who want to save even more time by automating research and some writing.
👉  Powers "Content Briefs" & "First Drafts"
👉  1 credit = $25 for sumolings. ($100 for regular customers)
👉  Worth it?
👉  2 credits ($50) can potentially write you 5,000 words plus save you 2-10 hours.
👉  See how it works on the next note!
Yes, MM can write the "First Draft" (FD) for you. Powered by credits.
You'll need 1 credit for a content brief first.
And then 1 more credit for FD.
Note that credits are ONE-TIME only. So once it runs out you'll have to buy.
Sumolings get 75% OFF — $25/ credit.
So, 1 FD = $50.
How does First Drafts work?
Easy-peasy.
1. You do some research first
2. Come up with topics & sub topics
3. Submit to get First Draft
MM will use AI to write the content with about 200-500 words per topic/ sub-topic.
FD content are usually 2,500 – 5,000 words in length.
Optimized for SEO. Plagiarism free. Fixed for grammer.
Add more sub-topics to get even more content! (shhh)
MM wins here:
👉  Save time — It'll write 2k-5k words at one go without having you to manually copy & paste into "content expander" 200 words at a time.
👉  SEO optimized — GPT-3 doesn't care about SEO.
👉  Better Control — You dictate the topics & questions beforehand. And the AI does the rest
👉  Plagiarism free — GPT-3 does not check for Plagiarism and repetition
👉  Curated Data Set: MM AI is trained on articles that exclude sexist, racist, and adult content. GPT-3 is trained on the entire web, including low-quality, explicit, and hateful content
GPT-3 wins here:
👉  Much larger data set to work with (more users using)
👉  So they'll improve output quicker.
👉  Gives other SEO tools a leg up — by building their own machine learning layer on top of GPT-3 (like what Frase is planning to do)
If you want AI content that ranks, gotta be MM AI at the moment.
Other GPT-3 tools may give you content, but will it rank?
Here's two:
Psychology Degree Specialty Areas
What to expect?
👉  Some paragraphs are ready to use.
👉  Most needs some touch up (& add your tone of voice).
👉  Other give you ideas & inspirations.
Add on top of it & make it richer.
0 Codes —
If you're happy with Frase and don't need another SEO content optimizer.
If you're not sure, go to Menu, and check out the other notes about MarketMuse & Frase. It'll help you make a better decision.
3 Codes —
If you're getting any MarketMuse, I recommend 3 codes.
2 simple reasons
👉  Get all the crucial features (all 5 applications + data export)
👉  Mapped to Pro plan
Data export is important because you do not have sub-accounts.
It'll allow you to share your research with your writer via Google Sheets.
1 & 2 Codes —
On a budget but you want better SEO content that ranks.
70% of the time you'll be in "Optimize".
And it's the most important feature.
You will miss out on other, but at least you can write better content.
How many "Queries" Do I Need?
1 query = 1 article.
How many article will you write/ forsee yourself writing?
3 codes = 70 queries = 70 articles per month.
Most people should be good with just 3 codes.
Stack for More Credits?
Credits allows MM to write for you.
Plus save time for research.
To know how many codes to stack for credits check the section below.
Are Credits for MM AI Content Worth it?
This really depends on each individual.
That's why I've stressed numerous times that credits is not the MAIN THING in the deal. You can forget about it (or give me) if you don't need it 😜
Queries is what you'll being using day to day.
And they've sweeten the deal last week by allowing 1 query consumption for "research", "optimize", & "compete" (It used to take up 3 queries).
So it's like increasing your limits by about 2x!
But let me break it down a little to help you visualize the cost of credits.
For $50, you can get…
👉  A 2,000 – 5,000 word draft
👉  Executive summary (Overview of how to write)
👉  Outline Brief (Suggested topics & subtopics including metrics)
👉  Save 2-10 hours of manual research.
Now, let's say you stack…
5 codes = 30 credits = $23 per first draft
10 codes = 80 credits = $17 per first draft
10 codes + briefcase(s) = 80 credits = $13 per first draft.
Future top up = $50 per first draft
Worth it?
Again, up to you!
Thank you for reading until the end!
Get fresh updates in your inbox 

👇