MarketMuse vs Frase vs SurferSEO
MarketMuse is the new lifetime deal on Appsumo.
But they're not the new kid on the block.
It's a well-known content optimization tool that is being used by enterprises like Volvo, Discover, and Business.com.
Today let's compare head to head with the famous SurferSEO and another Appsumo deal that recently left the store – Frase.ai.
» Check out MarketMuse's Special One-Time Payment Offer
I did a test for 3 different keywords.
"Voice search", "Long tail keywords", and "Appsumo deals"
I've taken the top 10 recommendations of each software and put them in a table below. 
Voice Search
| MarketMuse | SurferSEO | Frase |
| --- | --- | --- |
| voice search | Voice search | Voice search |
| voice assistant | Google voice search | Google |
| smart speaker | google voice | Query |
| search results | Voice search queries | Search engine |
| microsoft's cortana | voice commands | voice command |
| voice search optimization | voice recognition | voice tech |
| search engine | seo strategies | product |
| google voice search | ask google | android |
| voice search function | voice assistant | target |
| voice search results | search terms | calls |
Long Tail keyword
| MarketMuse | SurferSEO | Frase |
| --- | --- | --- |
| Long tail keywords | Long tail keywords | Long tail keywords |
| short tail keyword | Company | Google |
| keyword research | search engines | Person |
| search volume | conversion rates | Search volume |
| keyword phrase | content | search term |
| keyword planner | search volume | search traffic |
| search term | search query | keyword phrase |
| search engine | search demand curve | search engines |
| keyword diffculty | keyword research | customer |
| head keyword | keyword opportunities | campaign |
Appsumo Deals
| MarketMuse | SurferSEO | Frase |
| --- | --- | --- |
| appsumo deals | appsumo deals | appsumo |
| lifetime deal | lifetime deals | lifetime deals |
| lifetime access | best appsumo | analytics |
| appsumo coupon code | messaging solution | offers |
| social media | social media | review |
| black friday | deals | wordpress |
| appsumo briefcase | business tools | users |
| appsumo lifetime deal | appsumo lifetime deal | lifetime access |
| tool | entrepreneur | Google |
| wordpress plugin | business tool | minutes |
So what do you think of the results?
I always thought Frase is pretty good for content optimization.
But compared to the two giants here, their suggestions are a little underwhelming.
I've highlighted some keywords (in red) that I feel wouldn't help you rank higher if you include them.
(disclaimer: Only brief research done)
Most of Frase's suggestions are single keywords and not that relevant, it tells me that their crawler is basic compared to the other two.
Perhaps what they look for are keywords that were mentioned multiple times and also made it on the top 20.
But that doesn't necessarily help you.
One example is the suggestion "Andriod" for the keyword "Voice Search" in the table above.
I understand why Frase recommends it.
In the top 10 results, "Andriod" is being used on 2 search results.
But if you look carefully, they are used by Google themselves!
Do you think they are ranking because of good content?
Maybe… But what certainly helped is because of the super high authority.
So even if you add "Andriod" multiple times in your article, you won't stand a chance.
Instead, what you need to do is look at websites that are not high authority but still manage to rank top #10.
Those content must be amazing. And that's what Google is looking for!
Reverse engineer their content and learn how they did it.
That's why MarketMuse and SurferSEO did not include "Andriod" as one of the suggested keyword to use.
They understood this concept.
MarketMuse and SurferSEO appears to have more advanced tech than Frase.
MarketMuse – Wants to help you write a comprehensive piece of content such that when an expert reads it, he'll acknowledge that you are an expert too.
SurferSEO – Wants to help you rank #1 in Google
We all want to rank #1.
From my brief testing, I can't tell if MarketMuse or SurferSEO is better.
But I've been using SurferSEO, and I can confirm that it does work very well for ranking your content.
As for MarketMuse, what they want to achieve is fully aligned with what Google wants today, tomorrow, and in the future.
Google doesn't want you to game the system.
They're not looking for regurgitated content either.
What they want is for you to produce useful and unique content that helps the reader.
The Google concept, E-A-T was first published in 2014.
E – Expertise
A – Authority
T – Trustworthy
And it still stands true today.
MarketMuse helps you to showcase your expertise and authority by creating comprehensive articles that only experts would know how to write.
That's why in the "voice search" keyword example above, MarketMuse suggested a topic "Microsoft Cortana".
To normal crawlers, it doesn't look like it has anything related to voice search.
But we know that it is Microsoft's very own voice search assistant.
As for trustworthiness, it often depends on your branding and your footprint on the web.
I didn't use MarketMuse before (because of how expensive it usually is), but based on what I've tested so far and the reviews from external sources (G2, Capterra…) It looks like a very promising tool.
I've got 3x stack for now, but may go for 10x depending on how much content I plan to churn out.
Scam! Credits are not lifetime!
My suggestion: just imagine the credits weren't part of the deal. Treat it as icing on the cake.
The queries which is used to power "Research, Compete, Questions, Connect, Optimize" is well worth the price. AND it's recurring.
For a 3x stack (which is the minimum you should get), we are getting about $350/ month's worth of queries for a typical monthly subscription.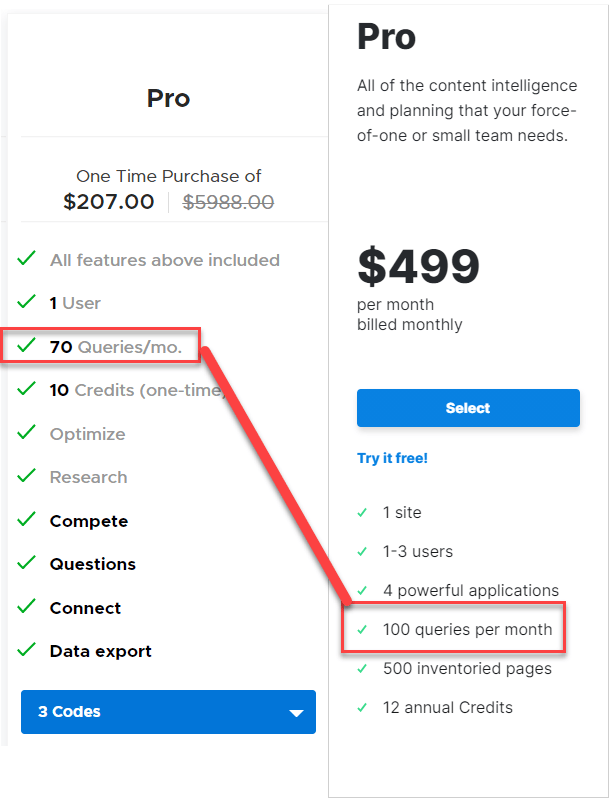 $499 per month for a regular paying customer only gets 12 credits A YEAR.
10 credits is not too bad, really.
But don't focus on that, focus on the recurring queries you will be getting.
It's good enough to help you create comprehensive articles, position yourself as an expert, and rank higher on Google.
If credits is all you want for this deal, then give it a pass. Or stack 10x to get a bunch of credits at a discounted rate.
Summary:
MarketMuse's Optimize application opens up a content editor, gives you all the important topics and sub-topics, and offers recommendations in real-time as you write.
If need to, you can export the data and hand it off to your writers. This module works similarly to other content editors like SurferSEO and Frase.
The quality of the data and technology is different for each platform.
To start off, you can enter your seed keyword at the search bar on top and click run. If the content is already published, you can simply enter the URL to fetch.
It basically opens up a content editor where it gives you a list of keywords/ topics in order of relevance. (most important ones on top)
All 3 software has similar content editors.
But the technology that is used to derive at the recommendations are different.
MarketMuse claims to analyze tens of thousands of pages and provide personalized recommendations unique to YOUR domain.
In comparison, Frase only analyzes the top 20 search results.
Because the recommendations are unique, A SaaS blog and a E-Com blog will get different results even if they are trying to rank for the same keyword.
This according to MM can help you create highly relevant content.
What I like about MM's content editor is that you can click on each topic, and it opens up a bunch of other sub-topics.
Here we see the example of "Keyword research".
Upon clicking on it, it shows me other sub-topics that I can cover if I want to.
So instead of the stuffing more of the keyword, "keyword research" I can now talk about other topics like AdWords keyword research, SEO keyword research, Google trends, and more.
This feature where it allows you to narrow down on a keyword is not available in Frase or SurferSEO.
It's useful to help make your content more comprehensive.
The "Compete" tab WITHIN the Optimize application is super handy too.
It gives you an overview of the "Compete" data without running the "Compete" application, and thus saving you 1 query.
On the compete tab, it shows you the top 20 ranking articles, their score (calculated based on MM's technology) and its word count.
Based on this, MM also tells you what is the word count and content score you should aim for.
In this example, MM recommended my blog to write at least 3,895 words, and shoot for a content score of 33.
Again, this is unique to your domain.
If Google were to run this test, maybe MM will recommend that they aim for something lesser since they're so authoritative already. 
While at this tab, you can also click into each website and MM will tell you how your content stands against the site you selected.
Here's an example when I click at WordStream's article:
If the compete tab is not enough, you can always head to the compete application and use a query to retrieve more data.
Summary:
MarketMuse's Compete gives you a heat map of the top 20 ranking articles. It helps you to make an informed decision after analyzing the content score and topic being covered by each site.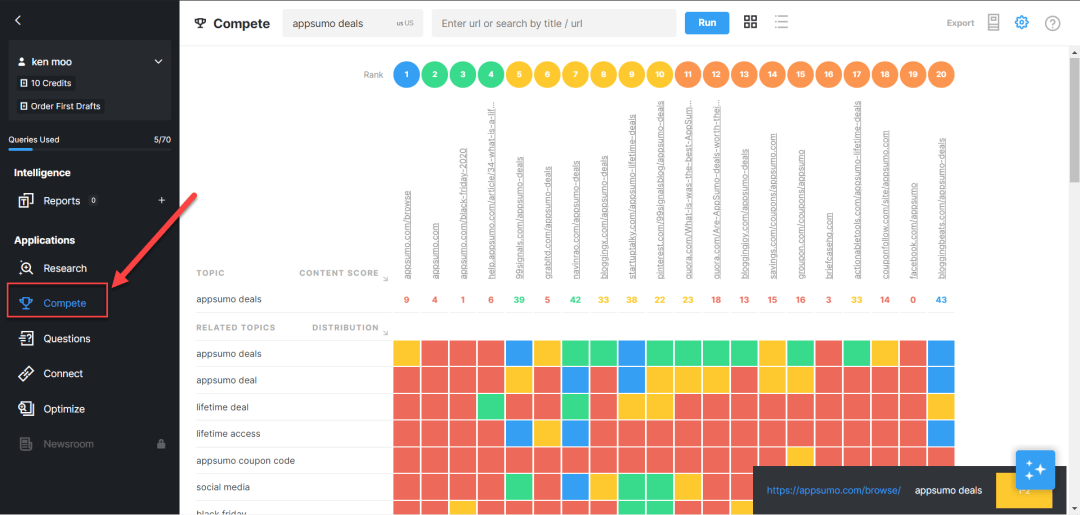 It looks confusing at first, but this contains a wealth of useful info at a birdseye view.
If need to, you can click into each results to get more insights.
On the top of the screen you can see the top 20 search results numbered from 1 to 20, and the content score at the bottom of each URL.
On the left, the topics are listed in order of relevance.
Then on the right, it has a heat map that shows whether a site covers a particular topic or not.
Whenever you hover your mouse to each square, it'll show you the website and the topic score on a tooltip (So you don't have to turn your website around to see the data clearly)
How to use?
The competitive data is all here. Now it's up to your imagination, really.
But here are some use case examples.
Content Gap
Here we see the topic "appsumo coupon code" that is almost all red for all 20 sites.
That means it's a topic that is not being covered.
But base on MM's technology, it's an important topic (top 5) to make your content more comprehensive.
Add it into your content!
"Must Cover" Content
Here we see 4 topics that are covered by most of the ranking sites.
As visible by the green, blue, and orange boxes.
The color of each box also signifies how comprehensive they cover each topic.
If all the sites are covering the topic "appsumo deal" and are ranking well, then we better do so too.
But why are the first 4 boxes mainly red? YET they are ranking on the top 4 results?
If they are ranking for the top 4, shouldn't all the boxes be green?
Does it mean that MM is not accurate?
If you examine further, you'll realize that the top 4 results all belong to appsumo.com.
And the keyword in question here is "Appsumo deals"
Of course they can rank #1-4 even though their content is not optimized for the keyword.
The brand signals and authority overpowers any content optimization.
If you're trying to rank for this keyword, there's no point mimicking the top 4 results.
Make sense?
What you need to examine closely is the 5th result – 99signals.com.
They have a good content score, and is ranking right after appsumo.com.
We need to reverse engineer their content and make our content even better!
Cover the topics that they cover, and make it even more comprehensive.
And cover the topics that they missed too.
If all things being equal, there's no reason you won't outrank them.
Another way to make your content more comprehensive is to answer common questions.
MM has a powerful question extractor to help you do that.
Summary:
MarketMuse's Questions gather all the questions that is related to the keyword so you can address them in your content and make the content more comprehensive.
No more having to switch to another software to get questions.
But if you want to save on queries, you can always research on another keyword research tool such as AnswerThePublic or Brand Overflow.
According to MM, they scrap not only the Google results for questions, but also look into each piece of content and automatically convert relevant topics into questions.
So it's supposed to be comprehensive.
For this keyword, "appsumo deals", there's not a lot of content written about it, so I would expect some questions to be irrelevant. But if we were to search for a topic that is widely written about (like injury attorney), we should expect the questions to be highly relevant. 
MarketMuse's Research shows you the important topics and sub-topics that is needed to rank an article and create comprehensive content.
Select all the topics and sub-topics you need and generate a content brief to be exported.
After entering the keyword or topic, you'll see a screen like the above.
Again, with the most relevant topics in order.
Simply check on the boxes that you want to cover so you can export it later.
It also shows you the "Variants" which means the sub-topics or sub-keywords that you can write about.
Click on it to reveal them, and you can also check on the boxes of the sub-keywords and add them to be exported later.
Done with your research?
Simply hit export to download.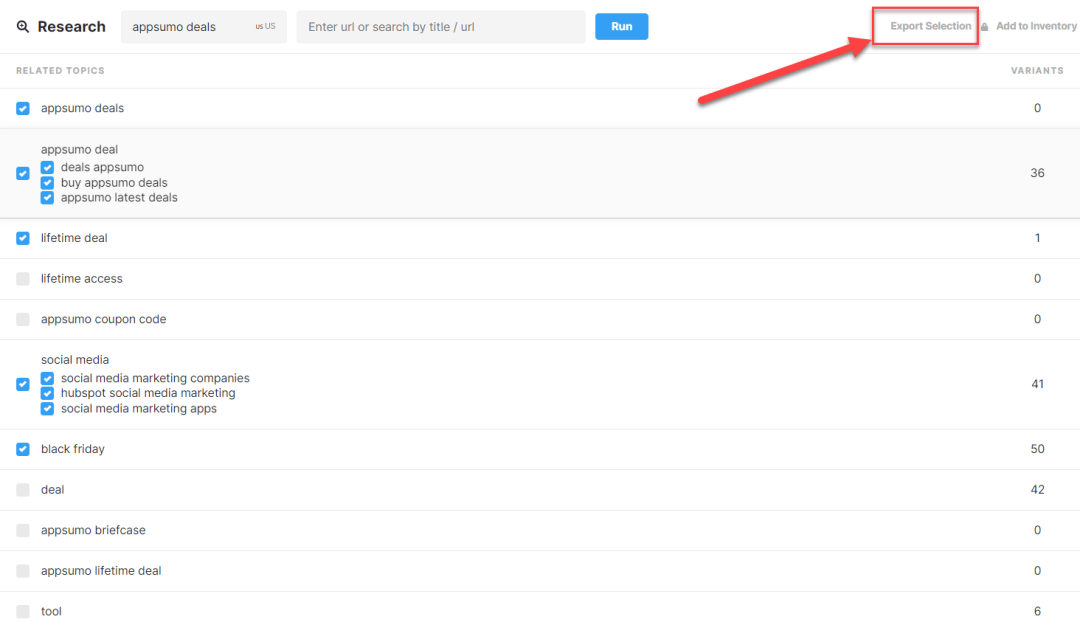 MarketMuse's Connect crawls your content and group them into clusters so you can see your content clusters and improve on them. The data here is unique to your domain. It also gives you external link suggestions for different topics.
In the screenshot above, I search for the keyword "Lifetime deals".
MM then group all my content related to Lifetime deals.
As you can see, I only have 4 articles in that cluster.
If I want to be a subject matter expert in "lifetime deals", 4 pieces of content is not going to cut it.
Scroll through all the clusters to know where you're doing well and where you'll need to make improvements.
Sometimes you might even find some content that is being placed in the wrong cluster.
If MM's AI can't figure out which topic it belongs, Google bot might not be able too. It'll be better to optimize the content.
The "external" tab is super useful too.
It shows you who you should link to in order to show Google you are a figure of authority.
Tell me if this sound familiar.
You're trying to rank for digital marketing. You need some sources. So you Google "digital marketing", and link to one of the search results there.
Big mistake!
You're telling Google that particular web page is MORE authoritative that your content. And that's why you are using it for a source.
With the "external" tab, MM analyzes your content, and tells you which are the best sources to link to.
Saves time and doesn't dilute your authority.
Nice!
MarketMuse is a content optimization tool that packs a punch. It covers different aspects that are important to creating a content masterpiece.
Other content research tools may make things easier for you. But the question you need to ask is, are you researching on the right content such that you have the highest chance to rank and position yourself as an expert?
MarketMuse usually cost between $79 to $1,499 per month to use. But for a limited time only, it is available for a lifetime deal on Appsumo and starts at $79 one-time payment.
Get fresh updates in your inbox 

👇