FunnelBolt Review: The All-in-One Lead Gen & Follow Up Automation Platform.
Overall Score
Overall User Experience:
3/5
⭐
⭐
⭐
Deal Structure:
5/5
⭐
⭐
⭐
⭐
⭐
Roadmap: ??
👉  Marketers and Agencies that does lead generation and want automatic follow-ups via emails, SMS, & voice drops.
✅  Agency Friendly — able to create unlimited client accounts and assign credits to them.
✅  Good Limits — Unlimited clients, leads, campaigns, & domains. You'll have to pay for SMS & voice credits which I think is reasonable as they are recurring costs that can kill a company if not managed well. 
You can also connect to your own Twilio account to make it even cheaper. 
✅  Multi Channel Follow-up — you can send automated drip emails, sms, and voice msg sequences. 
At a specific time or after XX days. Have unlimited steps, and if prospects reply, you can have the campaign stop automatically.
You can also do multi channel follow up. For example, 1st day email, 2nd day text, 3rd day voice, and 4th day you get blocked :p
✅  All-in-One Lead Gen Solution — Besides outreach features, it has a landing page builder, billing system, call tracking, call recording,  and CRM. You won't need another tool to do lead generation.
✅  Decent Speed — The landing page that I made scored an A on GTMetrics in US. And a B in Asia. Both load under 2 seconds, which I think isn't bad.
✅ Dedication & Consistency — For 2 years now, they've been posting stuff on their Facebook page every few days even though there's not much engagement. 
The founder is supportive. He responds to all questions in the group and on Appsumo's deal page.
❌  Average – Below Average UI/ UX 
The dashboard seems a little dated and some parts tend to hang. For example when I click on the drop down to choose the type of campaign, it tends to freeze up for a few seconds. Same thing happens when saving a landing page. There's a few other little things that just hurt the UX for me.
❌  Code Canyon Script 
The landing page builder is actually a whitelabeled version of PixFort. Using code canyon scripts isn't necessarily bad if the SaaS owner builds custom functionality on top and continues to drive innovation to stay competitive. But here's something you might wanna know. The builder is being continually updated for three years now.
The UI dashboard is also a whitelabeled script of Metronic. I'm not sure about other aspects of the tool like the CRM or outreach features. Need a pro or the developer's opinion on that. If everything is whitelabeled scripts and mashed together to create a SaaS, that can't be good either.
❌  So-So Builder 
Relatively simple if you've been using other page builders. It's got a wide selection of block templates that you can drag and drop to the canvas. But they lack flexibility. 
Let's say I have a template section that has 3 columns, I can't just add one more column, I'll have to go back to the template and find something else. 
Swipepages & Brizy is easier to use and offers more flexibility.
✋  CRM Is Good But Can Be Better 
CRM opens up on a Kanban board and you can drag and drop the prospects as they move down the pipeline. 
You can customize the pipeline or add new stages, but it takes more clicks than it should. 
Would also be good if we can automatically trigger a campaign when a prospect enters a particular stage. The tool lacks automation features.
Screenshot of FunnelBolt with Captions
Landing page builder. The sidebar allows you to add templates, blocks, & go to settings.
Here's a quick one I made: kentest.funnelbolt.com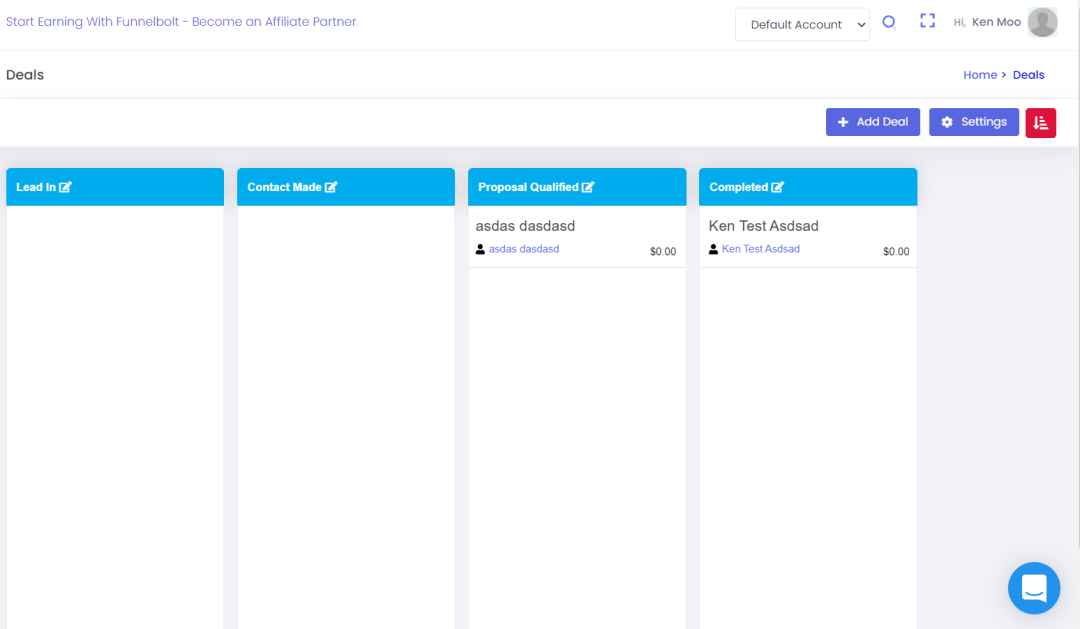 Get fresh updates in your inbox 

👇