Decktopus: Creating Beautiful Document Decks
Decktopus is a software designed to help create design document decks with premade templates on a fast, intuitive platform.
Features and Benefits of Decktopus
👉  Content Adjustments – When using Decktopus, all you have to do is to pick a template and then enter your content. Afterward, Decktopus will adjust the size, colors, layouts, and more almost instantly.
👉  Adding a Form – You can simply add forms into the document and then generate leads. This will help you collect data from your audience, including product feedback, contact information, or application forms.
👉  Connect Your Custom Domain – This feature allows you to easily distribute your document through the online sharing link. You won't have to download any external applications or programs to create, edit and distribute the document. All you have to do is to embed it into the website, connect your custom domain, or share it with our default online sharing the link.
👉  Notifications – You will get a notification when the form is submitted and access all the responses listed in one dashboard so you won't get lost in emails anymore.
👉  Unique Templates – Decktopus has a plethora of unique templates that you can use for your forms and documents.
👉  Automated Adjustments – Any style changes that you make to one slide are automatically applied to other slides which make it easier for you to maintain consistency throughout your content.
👉  Media – There are also royalty-free media that you can use to add spice to your slides like images and GiFs.
👉  Integrations – The software integrates with Unsplash, Pixabay, Giphy, and Icons8 which allows you to find the content that you need to bring your presentation to life.
👉  Video Tips – There are also video tips that will help you enhance your presentation skills.
👉  Hyper-Responsive Browser Interface – This feature will help you create, view, and edit your documents without having to use a third-party app.
👉  Sharing – You can also share your slide deck with a link, store your decks on the platform, or embed them into your own website so that they are available both online and offline.
👉  Entrepreneurs who are looking for the best tool to help formulate the best documents and forms for lead generation.
👉  Online coaches looking to find the best tool to help them with lead generation and collecting valuable information from their prospects.
Things to Note About Decktopus
👉  There is no way to add notes to the deck when editing the slides or when you are in focus mode.
👉  The template layouts are too general and do not necessarily work well for all types of creators.
Decktopus is Currently on Lifetime Deal at Appsumo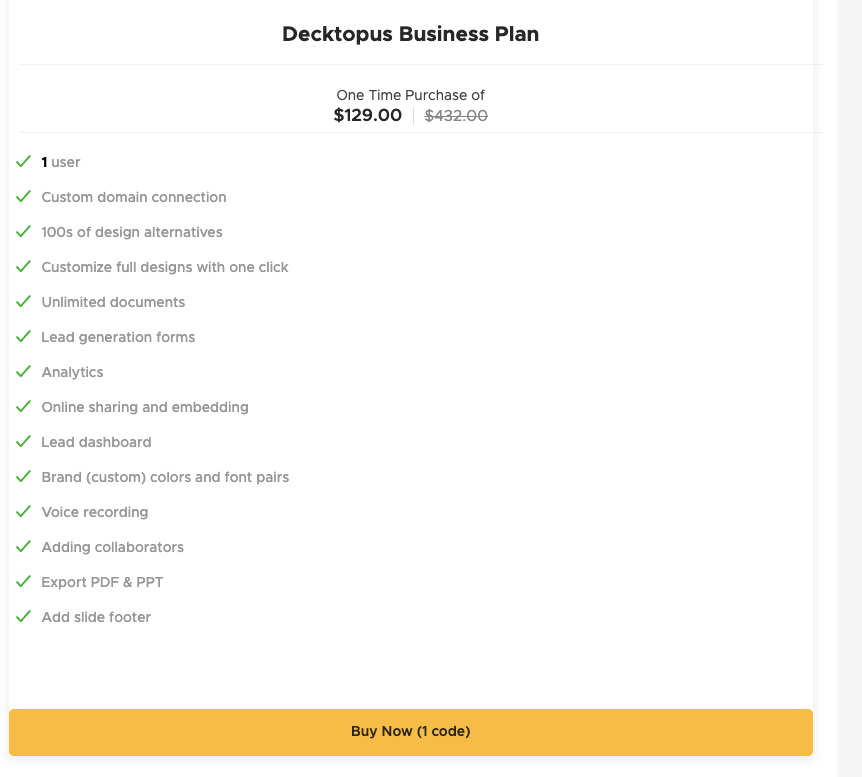 Get fresh updates in your inbox 

👇